Gala Dinner
All GeoVet conference delegates are welcome to participate in the Gala Dinner. It will be held on October 9th from 6:00 to 10:00pm at the California Railroad Museum in Sacramento, an approximately 15 minute drive from the UC Davis Conference Center. Buses will be provided for round trip transportation from/to UC Davis to Old Sacramento.
Our conference participants will have the unique opportunity to enjoy a Gala Dinner at one of the most important landmarks and historical sites that significantly contributed to the economic growth of California agriculture and wealth: the California State Railroad Museum
We will first have a reception and a historical tour in the museum and surroundings (Downtown Sacramento) and then we will have the 3 course dinner with live music. During the dinner we will announce the student presentation and poster awards.
About the museum
From the Railroad Museum website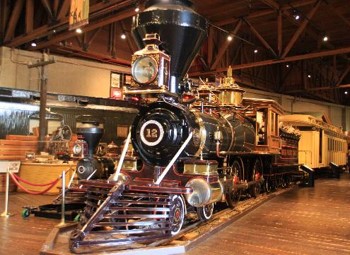 First opened to the public in 1976, the California State Railroad Museum complex is one of Sacramento's largest and most popular visitor destinations. Over 500,000 visit the Museum annually, with guests traveling from throughout the world to experience this world-renowned facility.

With over 225,000 square feet of total exhibit space, the buildings within the California State Railroad Museum complex use stimulating exhibits, enthusiastic and knowledgeable docents, and beautifully restored railroad cars and locomotives to illustrate railroad history in California and the West.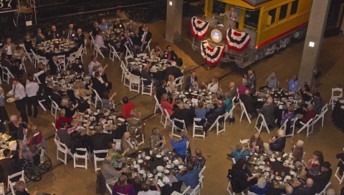 Throughout the main Railroad History Museum building, 21 meticulously restored locomotives and cars and numerous exhibits illustrate how railroads have shaped people's lives, the economy, and the unique culture of California and the West. Included are a Pullman-style sleeping car and a dining car filled with railroad china.
Photos courtesy California State Railroad Museum.