Venue
GEOVET 2019 will be held on the University of California, Davis campus, at the Conference Center.
UC Davis is the home of the Aggies — go-getters, change makers and problem solvers who make their mark at one of the top public universities in the United States. Since we first opened in 1908, we've been known for standout academics, sustainability and Aggie Pride as well as valuing the Northern California lifestyle. These themes are woven into our 100-plus-year history and our reputation for solving problems related to food, health, the environment and society. Our 5,300-acre campus is in the city of Davis, a vibrant college town of about 68,000 located in Yolo County. The state capital is 20 minutes away, and world-class destinations such as the San Francisco Bay Area, Lake Tahoe and the Napa Valley are within a two-hour drive.
Directions
550 Alumni Lane, Davis, CA, 95616

UC Davis is located twenty minutes from Sacramento International airport, and around two hours from San Francisco and Oakland airports.

The Conference Center is on the South East UC Davis Campus, a three minute walk from the Hyatt Hotel, and a ten minute walk from Downtown Davis.


Parking
Visitor parking at UC Davis is $9 per day. Daily passes are sold at kiosks in Visitor parking lots. You may view the locations of visitor parking lots using this map (The Conference Center is at the bottom-right of the map).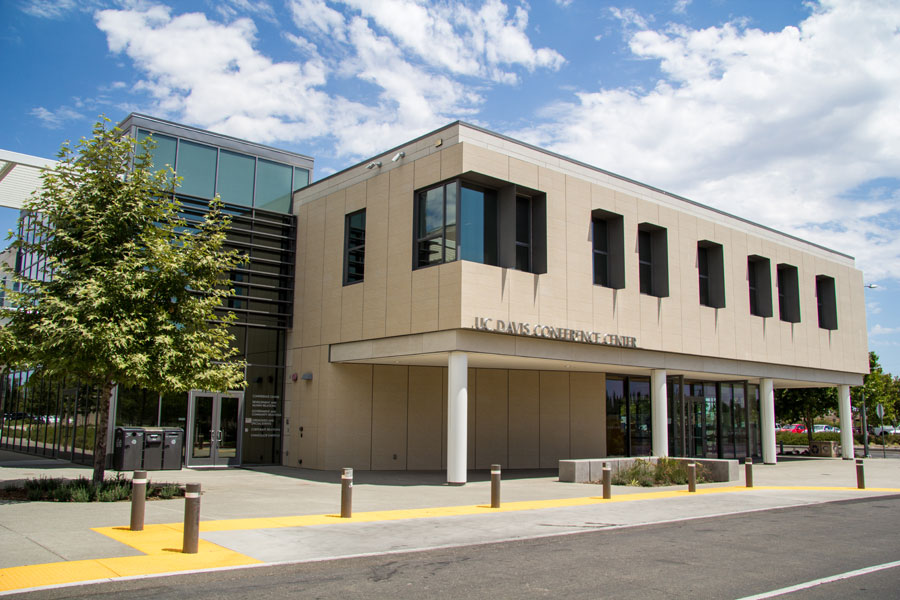 UC Davis Conference Center
The UC Davis Conference Center is located on the South East UC Davis campus (550 Alumni Lane, Davis, CA, 95616), 3 minute walking distance of Hyatt hotel (which has space for up to 100 guests) and 10 minutes walking distance to Downtown Davis where there are many other hotels and lots of restaurants and stores. All these hotels have agreements with UC Davis to offer special (cheaper) room rates for delegates attending UC Davis events. From the nearby hotels, walking and biking will be the best way to get to the venue as UC Davis. There is a parking lot also next to the Conference Center for those arriving by car (visitor parking is $9 per day), although we will encourage participants to walk and bike given the short distances and the enjoyable path to the conference venue through the arboretum. We will arrange guides to pick up participants and walk them to the venue. Some of the hotels in Davis offer the possibility to rent for free a bike to get to central campus. Mobility electric cars will be arranged and made also available for those with special mobility needs (in this case please contact us at
GeoVet19@ucdavis.edu
).
Some of the features of the UC Davis Conference Center are detailed below:
State of the art audio visual equipment
Onsite professional staff
Platinum LEED certified green building
Zero waste event accommodations
Convenient parking
Adjacent to the Hyatt Place Hotel
Additional meeting space available at the Buehler Alumni and Visitor Center
This conference center is particularly convenient not only for the location, but also for the logistics regarding its flexibility to be adapted to different audience sizes and have plenty of space for coffee breaks, poster display and small rooms for parallel small meetings. The entire Conference Center will be exclusively dedicated to the GeoVet activities during those 3 days.